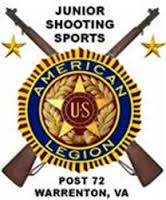 The American Legion Junior Shooting Sports Program is a gun safety education and marksmanship program that encompasses the basic elements of safety, education, enjoyment and competition. Shooters use the .177 caliber air rifle. Both males and females can participate, through Legion sponsorship; disabled youth are encouraged to join, as competitive shooting is a sport that creates an equal playing field for all competitors. Contact your local Legion post, Sons of The American Legion squadron or Auxiliary unit for information about affiliating as a club or individual.
Junior Shooting Sports is a three-part program that combines the Basic Marksmanship Course, Qualification Awards and Air Rifle Competition into a well-rounded activity
WARRENTON RIFLES SHOOTERS GARNER NATIONAL RECOGNITION
Three members of "The Warrenton Rifles," American Legion Post 72's junior shooting sports program, have earned the National Rifle Association's coveted "Distinguished Expert" award for air rifle.
Abram Baer, Sean Hardy and Sam Oravec each scored a minimum of 500 points — with 600 possible — in 10 competitions to earn the NRA's highest certification.
The John D. Sudduth American Legion Post 72 and the Fauquier County 4-H sponsor the shooting program.
Pictured above (from left): Coach Claude Davenport, Sam Oravec, Abram Baer, Sean Hardy and Coach Mike Freeman.

The week's events
Sun

Sunday

Mon

Monday

Tue

Tuesday

Wed

Wednesday

Thu

Thursday

Fri

Friday

Sat

Saturday

6:00 pm: Junior Shooters Practice

Practice and Firearms Safety Training for youth. Occurs every Wednesday from 6:00 - 8:15 PM

6:00 pm: Junior Shooters Practice

Practice and Firearms Safety Training for youth occurs every Thursday from 6:00 to 8:15 PM.